[Eerder gepubliceerd op de website van Utrecht Religie Forum op 16/01/2018]
Door Nella van den Brandt en Lieke Schrijvers.
In heel wat Westerse samenlevingen leeft vandaag de dag het idee dat religieuze tradities niet goed zijn voor de vrijheid en emancipatie van vrouwen en meisjes. Religie zou vrouwen zelfs onderdrukken. Het idee is ook dat jodendom, christendom en islam tegen de gelijkheid van homoseksuelen, lesbiennes en transgenders zijn. Met deze maatschappelijke vraagstukken houden wij ons bezig als religiewetenschappers. In dat brede onderzoeksveld richten wij ons op de relaties tussen religie, gender en seksualiteit.
Religie, emancipatie en bekering
In Nederlandse media en politiek is de relatie tussen religie en emancipatie vaak een onderwerp van gesprek. Denk aan de vele discussies over vrouwen in de islam en de hoofddoek, maar ook over de uitspraken van de paus over vrouwen en homoseksuelen en over reformatorische vrouwen en hun rol in de politiek. Tegelijkertijd zien we dat conservatieve religieuze groepen zich soms inderdaad presenteren als de bewakers van de familie, en traditionele opvattingen uitdragen over de rol en plaats van mannen en vrouwen en over correct seksueel gedrag. Er lijkt dus een tegenstelling te bestaan tussen religie en vrouwenemancipatie, waar de politiek en media maar al te graag op duiken. Religiewetenschap en genderstudies bieden mogelijkheden om kritisch te kijken naar deze veronderstelde tegenstelling. We denken vaak dat religie, met name de conservatieve strekkingen en tradities, slecht zijn voor de gelijkheid en vrijheid van vrouwen. Waarom is religie voor veel vrouwen dan toch belangrijk? Dat geldt overigens niet alleen voor vrouwen die in religieuze gemeenschappen zijn opgegroeid. Er zijn ook vrouwen (en mannen) die zich door middel van bekering 'nieuw' aansluiten bij een religieuze traditie en gemeenschap. Het is interessant om na te denken over bestaande veronderstellingen over religie en emancipatie onder andere aan de hand van bekering, en ook om ervaringswerelden te onderzoeken. Wat betekenen termen als 'gelijkheid' en 'emancipatie' eigenlijk in verschillende domeinen? Hoe denken religieuze tradities hierover en zijn er ook verschillen binnen religieuze tradities?
In ons onderzoeksproject, 'Voorbij Religie versus Emancipatie', gaan we met het maatschappelijk vraagstuk over religie, emancipatie en bekering aan de slag. We kijken naar wat wetenschappers, politici, journalisten, religieuze autoriteiten en tradities hierover zeggen. Maar we kijken ook naar wat vrouwen die joods, christelijk of moslim worden zelf te vertellen hebben. We proberen daarmee veel perspectieven serieus te nemen en ze tegelijkertijd kritisch tegen het licht te houden.
Bekering in Van Hagelslag naar Halal
In de 2015 KRO/NCRV tv-serie Van Hagelslag Naar Halal (VHNH) ging presentator Arie Boomsma met drie moeder-dochterkoppels op reis door Jordanië. Voor de serie werden moeder-dochterkoppels gekozen die een moeilijke relatie zeggen te hebben sinds de bekering van de dochter naar islam. De bekering maakt de moeders bezorgd. Zo zegt moeder Marcia: "Soms denk ik wel, omdat Lorena zo ver is in haar geloof, dat ik haar ben kwijtgeraakt".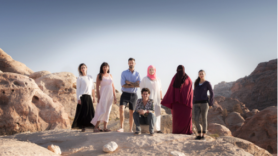 De serie is een voorbeeld van interessant materiaal voor onderzoek naar religie, emancipatie en bekering. In het programma kunnen we verschillende partijen onderscheiden. Er zijn de moeders en de dochters die allen een eigen perspectief hebben, maar ook Arie Boomsma speelt een rol in het sturen van het gesprek. Hij koos ervoor om begrip te tonen voor de zorgen van de moeders, en de dochters vragen te stellen over hun kleding, emancipatie en het gevaar van radicalisering. Natuurlijk hebben ook de programmamakers een belangrijke rol gehad in de opzet van de serie. Zij kozen voor de titel Van Hagelslag Naar Halal – een titel die de gedachte uitdraagt dat bekering betekent dat je weggaat van de Nederlandse cultuur (hagelslag) naar islam (halal). Je kunt je afvragen of de dochters Nour, Saroya en Lorena het ermee eens zijn na hun bekering inderdaad minder tot de Nederlandse cultuur en meer tot de islam te behoren. Al deze actoren hebben dus een rol in hoe er over religie, emancipatie en bekering wordt gedacht en gesproken.
Onderzoek naar religie, emancipatie en bekering is van belang, omdat het kritische vragen stelt en de vooroordelen van verschillende partijen bekritiseert. In ons project nemen drie onderzoekers deel, die allen een ander aspect van deze veronderstelde tegenstelling analyseren. Eén kijkt naar de religieuze tradities; de tweede onderzoeker analyseert hedendaagse publieke debatten en cultuurproductie, en de laatste interviewt vrouwen die zijn bekeerd. Op deze manier hebben we zoveel mogelijk manieren om het vraagstuk van religie en emancipatie verder te begrijpen. Bovendien gaan we op zoek naar onbekende, weinig gehoorde of gediscrimineerde stemmen. Alternatieve verhalen moedigen ons aan om anders te kijken en te denken, en zo op nieuwe manieren opinies te vormen en aan wetenschap te doen.
Als je benieuwd bent naar een meer verdiepende reflectie op Van Hagelslag naar Halal, en de studie van religie en gender, check dan Lieke Schrijvers blog, waar deze tekst deels op is gebaseerd: http://cchr.uu.nl/women-converting-to-islam-in-the-netherlands-van-hagelslag-naar-halal/
Nella van den Brandt, postdoctoraal onderzoeker aan het Departement Filosofie en Religiestudies, Universiteit Utrecht. Expertise in gender en religie en sociale bewegingen en publiek debat.
Lieke Schrijvers, PhD onderzoeker aan het Departement Filosofie en Religiestudies, Universiteit Utrecht. Expertise in gender, seksualiteit en geleefde religie.